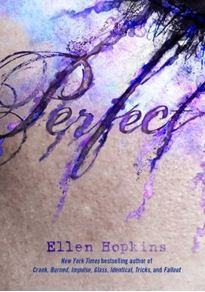 What would YOU give to be "perfect"? It's a high price for many people and the cost can sometimes be too much.
We would love to give you a copy of Perfect or Ellen's bestselling book Crank! Please comment below and we will choose 5 winners at random and account it on Monday. Come back then to see if you won!
In the meantime you can read more and even hear an audio excerpt from Perfect on the Simon & Schuster page HERE.
Perfect by Ellen Hopkins
Release Date: September 13, 2011
Read a free excerpt on Ellen's site.
Learn more about Perfect on Facebook or Follow on Twitter.
Learn more About the Author.
Now join in on the comments about the book to enter the drawing to win a copy.  Watch Ellen's trailers, Read Ellen's books, and Tell us what you think about what you like here.