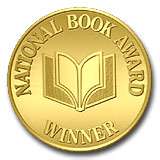 L. McMaken
10-17-11
Cincinnati, OH
The National Book Awards have just announced their finalists for 2011. First organized in 1950 to highlight the best in American literature, many past reciepients have become symbolic icons of classic American prose – William Faulkner, Saul Bellow, Wallace Stevens, Rachel Carson, Ralph Ellison, W.H. Auden, Marianne Moore, and Bernard Malamud.
Awards are given in four categories: fiction, nonfiction, poetry, and young adult literature. Here are the nominees for 2011:
FICTION:
Andrew Krivak, The Sojourn
Téa Obreht, The Tiger's Wife
Julie Otsuka, The Buddha in the Attic
Edith Pearlman, Binocular Vision
Jesmyn Ward, Salvage the Bones
NONFICTION:
Deborah Baker, The Convert: A Tale of Exile and Extremism
Mary Gabriel, Love and Capital: Karl and Jenny Marx and the Birth of a Revolution
Stephen Greenblatt, The Swerve: How the World Became Modern
Manning Marable, Malcolm X: A Life of Reinvention
Lauren Redniss, Radioactive: Marie & Pierre Curie, A Tale of Love and Fallout
POETRY:

Nikky Finney, Head Off & Split
Yusef Komunyakaa, The Chameleon Couch
Carl Phillips, Double Shadow
Adrienne Rich, Tonight No Poetry Will Serve: Poems 2007-2010
Bruce Smith, Devotions
YOUNG ADULT LITERATURE
Franny Billingsley, Chime
Debby Dahl Edwardson, My Name Is Not Easy
Thanhha Lai, Inside Out and Back Again
Albert Marrin, Flesh and Blood So Cheap: The Triangle Fire and Its Legacy
Lauren Myracle, Shine
Gary D. Schmidt, Okay for Now
The winners will be announced during a reception on November 16, 2011 in New York. Two additional awards will be given at the ceremony; the 2011 Medal for Distinguished Contribution to American Letters will be awarded to poet John Ashbery. Mitchell Kaplan, co-founder of the Miami Book Fair International will receive the Literarian Award for Outstanding Service to the American Literary Community. The event will be hosted by actor, John Lithgow.