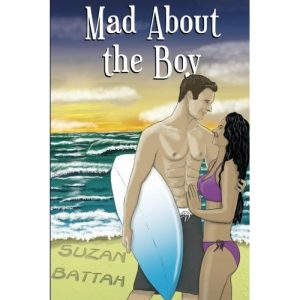 Julia Mendoza is as far from focused on romance as it gets. After the death of her young husband, this beautiful Latino woman shifts priorities and pours her energies into her personal business, much to the chagrin of her rambunctious family members. After all, Julia is only in her late twenties, and already it seems that life is all work and no play for her. That is the case until an aggravating ex-friend has her caught in a game of grocery store role play with a hunky surfer…
…When Christophe Augustine encounters Julia in the grocery store, he reluctantly agrees to play along with her game in order to help her circumvent the annoyance of an ex-friend. So for the time being Chris gets to act as Julia's boyfriend. Like Julia, he is focused on professional successes, such as those involving his wealthy father's luxury hotel chain, and he is adamant about receiving recognition for his work, as well as approval. But Chris knows how to be playful, and not even his parent's divorce can shake his faith in romance. Though initially skeptical upon meeting Julia, he finds that she is quite different from the other women with whom he has shared any intimate connection. And now, despite a dramatic first date, he is quite determined to know her a little better, but as their experiences together grow more serious and gradually intensify, Julia is challenged by the urge to flee from the situation. When two soul-mates meet, the connection is real and difficult to ignore, but where does it lead when one is ready to love and the other is not? Find out what happens when Julia turns out to be Mad About the Boy.
Suzan Battah may not be a familiar name to many, yet this is about to change. Currently, she works as an executive assistant, but such a busy schedule by day does not prevent her from focusing on her passion for writing. Mad About the Boy is her first finished novel, an entertaining and fun read that explores the complications of love and delves deep into the process of achieving balance between one's professional life and romantic life.
If you are in the mood for a romance story with a great sense of humor and a lot of imagination, then look no further than Mad About the Boy . Considering the extent of her passion for writing, it seems that we will have a lot more to enjoy from Suzan Battah in the future. Check out, Mad About the Boy, now in bookstores everywhere.