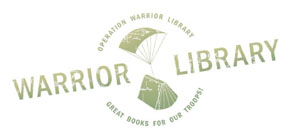 L. McMaken
11-1-11
Cincinnati, OH
It's that time of year – the holidays are approaching at the speed of light. While most of us shop, eat and enjoy family during the upcoming months, thousands of American soldiers are not so fortunate. Novelist Paul Malmont is working to make their holiday season a bit brighter — he is launching a book and audio-book drive that will send donated items to our troops in a program called Operation Warrior Library.
A joint project between Paul Malmount and Col. George Reynolds, they have created a "literary chain" going to the troops serving in Afghanistan and Iraq.
In a statement Mr. Malmont said: "We're starting a new effort to raise some books for a holiday delivery to troops. We're looking for boxes of new books from authors and publishers – audio books are particularly welcome to injured soldiers in hospitals."
Authors, publishers and individuals who would like to donate can find details via his website Operation Warrior Library.