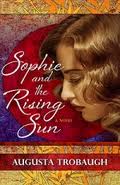 In the years preceding America's entry into World War II, a quiet Georgia town called Salty Creek is home to a peculiar and risky romance.
For quite some time, only polite and brief exchanges were ever had between a spinster named Sophie and Miss Anne's courteous and enigmatic "Chinese" gardener, Mr. Oto. Miss Anne, a moral woman whose memories of the event are at the center of this tale, provides Oto with refuge after he arrives, disgraced, starving, and essentially dropped from a Greyhound bus, in Salty Creek. Then, Oto notices Sophie and begins to fall in love. Sophie, whose own true love was lost in World War I, has settled on leading a dull and miserable existence following the death of her female family members for whom she cared. But somehow she is drawn to Mr. Oto. Love always seems to find us when we are not searching…
…Eventually, a strong friendship develops between them. While the rest of the townspeople attend church services on Sunday, Sophie and Oto sit quietly by the river and paint. Both recognize the unconventional nature of their relationship and proceed with precaution as a result. Yet the passion they feel for each other slowly rises to the surface, just in time for hell to be unleashed.
Oto, who is only mistaken by the simple townspeople for someone of Chinese ancestry, is actually Japanese by descent (though he is California-born), and when the Japanese bomb Pearl Harbor, he is forced into hiding to escape the onslaught of misguided aggression and, in some cases, unadulterated hatred. Now, Sophie and Miss Anne provide what they can to sustain Oto, but will it be enough, or are the divisions caused by war too great for them to bear?
Sophie and the Rising Sun is a romance that deals with the problems of racial tensions and gives us an account of love's power to overcome even seemingly insurmountable obstacles, such as great disparities in age or ancestry. The novel is the most recent release from Augusta Trobaugh, whose stories have a lot to offer for those readers who can never get enough of romance. Sophie and the Rising Sun is pleasant and simple to read, but there is a certain intricacy to the plot. Perhaps it is the story's ability to grapple with some difficult topics, or maybe it is the nearly poetic innocence of Sophie and Oto's blossoming love (even in spite of its seeming so uncharacteristic). Whatever the reason, if you happen to be a fan of romance, you do not want to pass up Sophie and the Rising Sun by Augusta Trobaugh, available in bookstores everywhere.