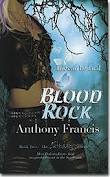 Dakota Frost is back in the second installment of the Skindancer trilogy, an urban fantasy series from highly-acclaimed science fiction author Anthony Francis…
…In Dakota's world, magic, which was kept a secret by its practitioners until the counter-culture movement of the 20th century, is very real. And Dakota knows it well—as a "skindancer," a tattoo artist whose ink can come to life, and a member of the Edgeworld, the alternative culture in which magic is known and practiced, she holds to a certain degree of skepticism blended with her fiery attitude in order to make her world work. Right now, she seems to be on the right course. After all, she has a new house and a new vehicle, not to mention a newly adopted daughter named Cinnamon, who is in reality a were-tiger. Then, her friends, also supernatural by nature, become the target of a magical attack that is peculiar to say the least. Deadly graffiti is the cause, and, with so much at stake, it is Dakota's burden to learn how such menacing alternative artwork can be stopped before Edgeworlders everywhere in Atlanta are doomed. Vampires, werewolves, and even traditional law enforcement are losing their trust, and Dakota seems to have one resort. The time has come to seek help from her own skindancing mentor. The only one who can aid Dakota now is Blood Rock.
Blood Rock is the latest novel from Anthony Francis and marks a continuation of skindancer Dakota Frost's trials in a world where magic is just as much a part of reality as science. The problem for Dakota is that laws of science (physics, etc.) are already recognized, at least to some extent, whereas the laws and true nature of magic are only vaguely understood. An important part of the novel is her course of learning the source of magic. You will understand a little better too when you read…
…Anthony Francis actually enhances computer technology for a living, but by night he retreats into a world of his own contrivance. Writing and science are both passions for him, but he seems also to have a knack for the urban fantasy genre. His novels are set in Atlanta, a city where Francis spent much of his life and one to which he has a great attachment. Of course, in the Atlanta of Francis, there are werewolves, vampires, and magical members of the alternative culture sect, such as Dakota Frost. His stories are creative and full of energy, like his novels' characters. There is also evidence that Francis is very painstaking about his development of a hard magical system for his fictional world.
If you have ever enjoyed urban fantasy, then you should definitely look for the latest novel from Anthony Francis, Blood Rock. For those readers who are completely unfamiliar with previous work from Francis, it might also be a good idea to pick up the first novel in the series, Frost Moon, so that Dakota's story makes a little more sense. For more information about this novel, the author, or his other work, turn to the following web address: http://www.dresan.com/.