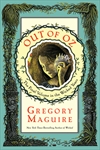 L. McMaken
11-7-11
Cincinnati, OH
With the release of "Out of Oz: The Final Volume in the Wicked Years", author Gregory Maguire will end his "Wicked" book series. The wildly successful series based on the The Wonderful Wizard of Oz, has consistently topped bestseller lists and has taken Broadway by a storm of flying monkeys.
Out of Oz is the fourth book of the series and is nearly 600 pages and the author states he had to create his own "Wicked" encyclopedia to keep track of all the details. In this last book readers will find that; "Glinda is under house arrest, Dorothy comes back to Oz for a second visit and is put on trial, and the Cowardly Lion is a witness in her defense."
Mr. Maguire says he is taking some time off from writing, but we haven't heard the last from this eclectic author.