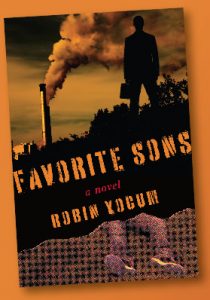 L. McMaken
12-19-11
Cincinnati, OH
True crime writer Robin Yocum, (who I previously interviewed for RE. You can read the entire interview here) has just been awarded the USA Book News 2011 Award for Mystery/Suspense for his debut novel, Favorite Sons.
In Favorite Sons, Yocum puts his knowledge (as a former journalist and crime writer) of the way criminals think, the stories crime scenes tell, and the way lives get caught in the balance, to practice. The result is a skillfully crafted, emotionally harnessing, and authoritatively captivating thriller that blurs the lines between heroes and villains, and leaves the police, the protagonists, and even the readers conflicted over who they should be rooting for.
For a complete list of this year's award winners in all categories, visit USA Book News.