A Sneak Peek at Christmas with a NY Times bestselling author!
Part 2 of the Holiday Series at Reader's Entertainment
I met Dianna Love many years ago at a book signing and as most people who have had the opportunity to meet her know, you feel an instant connection with her.  She is warm and welcoming and always smiling. Over the years I've learned that she is a very savvy business lady, clever, creative and talented. Beautiful inside and out, this lady is more than just a NY Times bestselling author, she is a powerhouse of talent. Though I don't think she would ever admit to that. It's true nonetheless.
I caught up with Dianna a couple of weeks ago. Her schedule is always busy and during the holidays even more so.  But, when I told her I was doing a series about authors at the holidays she offered to share a little bit about herself and sent us a couple of holiday pictures as well.
Enjoy!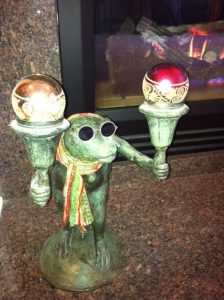 From Dianna
I've included a picture of one of the two frog statues in front of our fireplace.  We decorate them for holidays all year (but they always have their cool sunglasses), but this is the first time they've had Christmas ball ornaments in place of their candles to go with their scarfs.
I want to share one of my favorite holiday memories of back in the 1990s when my husband and I had a wonderful black-and-tan Cocker Spaniel. She never touched the tree or the presents under the tree all season until Christmas morning when we'd pull our gifts out one at a time and tell her to open them. She'd then put her little paw on the package and pull the ribbon loose. Next she'd tear the paper in strips until the package was open without harming the gift.  She was such a wonderful dog our nieces and nephews loved to treat her with gifts just to watch her open them.