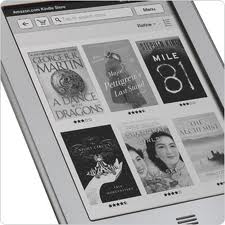 L. McMaken
1-7-12
Cincinnati, OH
It seems eReaders were one of the top selling gifts this holiday season, with all manufacturers reporting the best sales they've seen. eReaders and digital content were flying off Santa's sleigh in record numbers.
The Kindle:
Amazon reports selling more then "1-million Kindle devices per week" in December, and their eBook sales were also high. In a press release from Amazon: "Gifting of Kindle books was up 175 percent between Black Friday and Christmas Day compared to the same period in 2010."  Amazon also sold well internationally reporting that Kindle was the "best-selling product at Amazon-uk, Amazon-de, Amazon-fr, Amazon-es, and Amazon-it."
Amazon stated that their Kindle Fire tablet was their best seller, followed by the Kindle Touch and the Kindle.
The Nook:
Sales of the Nook, including the Nook Simple Touch, The Nook Color, and the Nook Tablet from Barnes & Noble report a 70% increase in sales. B&N also noted that sales of eBooks, digital magazines and apps "grew 113% during the same 9-week period this year versus last year."
William Lynch CEO of B&N said: "We have a large and growing installed base of million s of satisfied customers buying digital content from us, and we have NOOK business that's growing rapidly year-over-year and should be approximately $1.5 billion in comparable sales this fiscal year. Between continued projected growth in the U.S., and the opportunity for NOOK internationally in the next 12 months, we expect the business to continue to scale rapidly for the foreseeable future."
The KOBO:
Lesser known, but still grabbing a large share of the eReader market is the Kobo. According to their press release, Kobo saw an "increase of 10X" in sales". The company said the number of registered Kobo users "doubled" through the holiday season, and the "Christmas Eve was the busiest eBook download day ever for the company." In a statement from Michael Serbinis, Kobo CEO he said: "This holiday season broke every foreseeable record for Kobo, and we have exceeded our expectations driving several eBook downloads per second through the holidays. I would like to thank our customers for choosing Kobo to start building their digital library – our success this holiday season is a recoursor to a New Year with people reading more then ever thanks to eReaders, eBookd and Kobo."