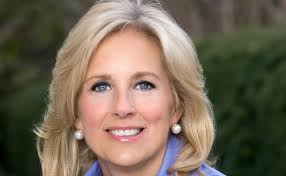 L. McMaken
1-29-12
Cincinnati, OH
Vice Presidential wife, Dr. Jill Biden has announced that Simon & Schuster Books will release Don't Forget Nana, God Bless our Troops, her picture book for young readers.
In a press release from Simon & Schuster regarding the book: "Inspired by the real life experiences of the Biden family, Don't Forget Nana, God Bless our Troops will be told through the eyes of Vice President Joe and Jill Biden's granddaughter, Natalie Biden. The story is inspired by Natalie's life at home when her father was deployed. Natalie's father, Beau Biden, is a Major in the Delaware Army National Guard and was deployed to Iraq for a year. Readers will follow Natalie's experience as she learns to cope with missing her father and finds comfort in the kindness of members of her community, including teachers and neighbors, and the strength and pride that she and her mother and brother felt from being part of a military family."
The release date is set for June 2012 and all proceeds generated by the sale of the book will be donated to organizations that support military families.