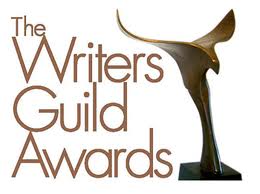 L. McMaken
1-29-12
Cincinnati, OH
Literary awards season continues with the Writer's Guild East & West announcing the 2012 Writers Guild Awards New Media and Videogame Nominees, "For WGA awards purposes, a new media platform is defined as the Internet via a major video sharing site or unique URL, mobile devices such as cell phones or PDAs, or any other established new media platform."
Ceremonies will be simultaneously held  in Los Angeles and New York on February 19, 2012. Here is a list of their nominees:
Outstanding Achievement in Writing Original New Media
Downsized "Episode 2.1: Employment," "Episode 2.2: Clientele," "Episode 2.3: Personal Property," "Episode 2.4: The American Dream," "Episode 2.5: Debt Ceiling," written byDaryn Strauss.
Jack in a Box "Episode 3.1: The Return," "Episode 3.5: The Testosterone," "Episode 3.6: The Advice," "Episode 3.7: The Date," written by Michael Cyril Creighton.
Aim High (Only available on Facebook) "Episode 1," "Episode 2," "Episode 4," "Episode 5," "Episode 6," written by Heath Corson & Richie Keen.
Outstanding Achievement in Writing Derivative New Media
Jack Donaghy: Executive Superhero (30 Rock) "Soft Served!," "Iced!," "Rokered!" written by Tom Ceraulo.
Mortal Kombat: The Web Series "Raiden," "Kitana and Mileena," "Johnny Cage," written by Todd Helbing & Aaron Helbing.
The Walking Dead "A New Day," "Family Matters," "Neighborly Advice," "Step Mom," "Everything Dies," teleplay by John Esposito, story by John Esposito and Greg Nicotero.
Sons of Anarchy ("appisodes" not available online) "Pay Phone," "Jax Meets His Second Son," "Tara & Piney," "Mexican Basketball" written by Kurt Sutter & Gladys Rodriguez.
Congratulations to all the nominees.