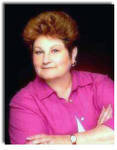 L.McMaken
2-22-12
Cincinnati, OH
Author Judi McCoy was well known in the romance community for her romantic fantasy and paranormal books.
Before turning her talents and passion to writing, she had been a nationally rated women's gymnastics judge, spending over twenty-five years in the sport. When she retired her muse took over and her first book, I Dream of You, won Waldenbook's Bestselling Debut Romance of 2001. From there her writing career soared earning numerous four-star reviews and landing on the best-seller list.
Her first fourteen books were romance novels, yet in 2009 she dipped her writing pen into the mystery genre and again, the world smiled at her gift. With the release of Hounding the Pavement a mystery featuring amateur sleuth Ellie Engleman who can talk to dogs. This series, aptly titled The Dog Walker Series, featured everything Judi loved, a little mystery, a little romance, humor and dogs. This book also earned a starred review from Publisher's Weekly.
Throughout her life, Judi was an advocate for dogs. She spearheaded many fundraisers for no-kill shelters, second-chance shelters, and dog rescues. In her own home, numerous furry dogs found refuge and a loving family. She donated all the proceeds from her novel, Hounding the Pavement to the Best Friends Animal Society.
Judi was a member of numerous writing groups and for the Romantic Times Convention she lead the aspiring authors course mentoring new writers.
With her passing, numerous authors have commented across social media of Judi's impact on the romance genre, on her patience and dedication to the craft of writing and of her kindness, help, and mentoring that bolstered many careers.
Judi McCoy passed away from diabetes complications. Her latest novel, Fashion Faux Paw, is scheduled to be released in March.