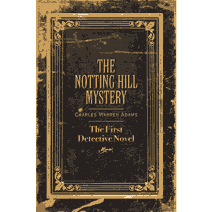 L.McMaken
2-24-12
Cincinnati, OH
The year is 1863 and the novel's hero, Ralph Henderson, quite possibly literature's first modern detective,  is about to solve a mystery.
Last year, the British Library released a print-on-demand reprint of what is considered the world's first "detective novel", Notting Hill Mystery. After the 150 year old novel received critical praise from the New York Times, its sales began to climb. With additional positive reviews the British Library decided to give the novel a trade edition.
The novel was first published as a serialized novel in the British magazine Once a Week in 1863. Written by Charles Felix a pseudonym for lawyer Charles Warren Adams, the book received critical acclaim. It's plot is very modern: "Insurance investigator Ralph Henderson works to bring  the sinister Baron R to justice for murdering his wife to obtain a large life insurance payout. Using diary entries, letters, crime reports, witness interviews, maps, and forensic evidence – innovative techiques that would not become common features of detective fiction until the 1920's."
New York Times reviewer Paul Collins said of the novel: "It's a great read, written in a very matter-of-fact way."
The new edition will be printed using photographs from the original 1863 book.