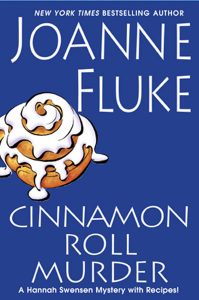 Cinnamon Roll Murder by JoAnne Fluke
What goes better with cinnamon and spice than murder and mayhem? Joanne Fluke's bestselling series has it all, including recipes!
They call them "cozy mysteries" because they are just that, cozy. If you like mystery without too much high-energy suspense, and a side of smiles and romance this series is for you!
Hannah Swensen owns the small town bakery and when she hears that the Cinnamon Roll Six jazz band is coming to town she's thrilled. But, when the band's bus overturns and then the keyboard player comes up murdered Hannah sets out to find the killer.  But, the keyboard player came with his own set of mysteries, like…what his real name is. No one knows, but someone knows enough to want him dead.
Nothing is sweeter than solving a mystery, eating some baked goods and following this small town sleuth on her next case! Cinnamon Roll Murder is out Feb. 28, 2012.