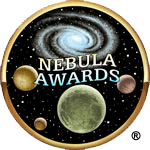 L.McMaken
2-27-12
Cincinnati, OH
The Science Fiction and Fantasy Writers of America has just announced the nominations for the 2011 Nebula Awards. Each year since the awards inception in 1965, the Nebula's have been awarded for the best science fiction and fantasy writing in several categories; best novel, novella, novelette, and short story, and best script. An anthology of the winning pieces of short fiction as well as several runners-up are published every year. The winners are chosen by members of the SFWA.
The Forty-Seventh Nebula Awards will be held Sunday, May 17 to May 20, 2012 at the Hyatt Regency Crystal City in Arlington, Virginia. This year's Grand Master is author Connie Willis, the Toastmaster is Walter Jon Williams, the Keynote Speaker  is Mike Fincke, who served aboard the International Space Station.
The nominations for best novel for 2011 are:
For a complete list of nominees in all categories please visit the SFWA website.