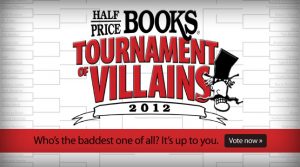 Half Price Books has launched a very fun program "inspired by the NCAA basketball tournament." It is the Tournament of Villians and they are asking for yoru votes as to who is the evilest villain of all.
They have constructed "brackets" much like the NCAA brackets only with literature's most notorius villains. All you have to do is go to their website and vote.
The tournament started  March 15th and there are already a few surprises in those bad villain brackets.