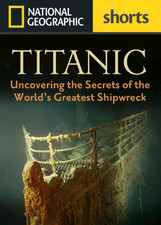 National Geographic Books just released the first book in their new line of eBooks. The books will be a line of "eShorts" that run 5,000 to 15,000 words and expand on articles from their magazine. "Titanic: Uncovering the Secrets of the World's Greatest Shipwreck" by Mike Sweeney will launch the series. This release is in conjunction with the 100th anniversary of the sinking of the ship. Robert Ballard, National Geographic's Explorer-in-Residence first located Titanic's wreck site in 1985 and will contribute to the eShort with interviews of descendants of the ships builders, scientific information about the ship, the wreck site, and the eShort will also include "high-resolution images" of the wreck. You can read an excerpt here.
Four additional eShort books are scheduled this year. The other titles are: "Mysteries of Jesus: Exploring the Miracles of Easter", "Rhino Wars: The Violent Underworld of Poachers and Black Market Medicine", "36 Healing Herbs: The World's Best Medicinal Plants", and "Shark Attacks: Inside the Mind of the Ocean's Most Terrifying Predator."
The eShorts will sell for $3.99 and National Geographic plans to release one title a month.
Rachel Graham Director of Digital Publishing for National Geographic said in a statement: "We are thrilled to be publishing our great content at such an accessible length and price point. We're excited to continue to expand into the digital publishing industry and reach a broader audience through the new line of eShorts. It's an opportunity for us to tell timely, relevant stories without the constraints of the printed magazine or book page."
They will also be airing two specials to coincide with the 100th anniversary of the Titanic disaster on April 8th and 9th on the National Geographic Channel.