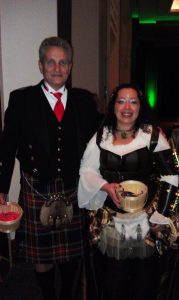 This year's RT Booklover's Convention was amazing! From bestselling authors like Ann Rice, James Rollins, J.R. Ward and Sue Grafton, to new and upcoming authors like Andrew Peterson, C.H. Admirand, and Debra Parmley. There were authors in every genre; romance, mystery, thriller, fantasy, science fiction, and graphic novels.
The event also held a Teen Day that had record attendance featuring authors Melissa Marr, Kelly Armstrong, Leanna Renee Hieber and Jennifer Estep.
After a warm welcome party, attendees branched out to a myriad of workshops and author meet-and-greets.
Workshops were held for reader's who wanted to meet their favorite authors and learn about their characters, their settings, and how they came to create their favorite fiction worlds. The reader's workshops covered Hometown Heroes in Series Romance, Western Roundup (featuring historical and contemporary western authors), Regency Period details and trivia, and an amazing ATF (Alcohol, Tobacco and Firearms) presentation. (Video and additional details of this event will be posted later this week.)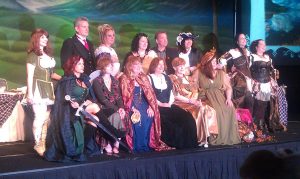 For writers, workshops included information from editors, publishers, and agents as well as programs on marketing, writing tips and the evolving digital publishing world.
Please, there were parties! A Scottish Fling, Hip Hop Stomp, 1920's Speakeasy, and Gangster Cafe and there were BOOKS. Wonderful books were available for purchase at the two bookfairs, and many authors and publishers graciously donated books for attendees.
The Thursday eBook, Indie Publisher, and Graphic Novel Expo brought hundreds of enthusiastic readers to the event. Authors Jade Lee, Shiloh Walker, Amanda Jayde, Debra Parmley, Jennifer St. Giles, and J.A. Konrath were just a few of the fabulous authors featured.
At Saturday's Giant Book Fair authors Ann Rice, J.R. Ward, Susan Elizabeth Phillips, Sue Grafton, and James Rollins headlined a room of bestselling authors. The lines to get in were long, snaking down the hall outside the fair and readers were lining up ahead of time to ensure they got to meet their favorite authors.
Reader's Entertainment snagged some great interviews and we will be posting them throughout the coming weeks. Stay tuned for the latest news on authors James Rollins, Andrew Peterson, Robin Shone, Jennifer Estep, Mingmei Yip, Joanne Fluke and many others.