Sex and the Single Therapist by Marcia James Book Review
A Las Vegas sex therapist amateur sleuth with a penchant for finding mischief, especially if that mischief comes in the form of sexy homicide detective Zack Crawford!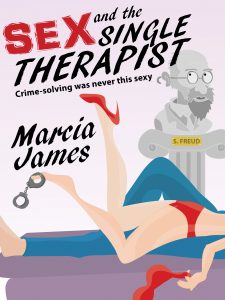 The book opens up with Zack coming to Dr. Ally Skye's office and dropping the bomb that one of her clients has been murdered. Things get more complicated when it ends up being the husband of her good friend and her friend is the prime suspect. Ally and Zack have a rocky start and it remains that way for a while although the sexual tension begins to mount immediately.
This is romantic comedy at its best. The author has a fun voice and the pacing is quick and satisfying. The heroine is a smart girl who knows herself and is not timid. You are endeared to Ally right away and the hero, Zack is a tough go-getter. Put the two together and the killer is going to have to work pretty hard to keep up.
The characters are fun and they have immediate chemistry. If you like romantic comedies with a mystery/suspense twist then Sex and the Single Therapist by Marcia James will be a fun summer read for you!
Find out more here: http://www.marciajames.net/