Bailey Walker is trying to put her life in order, and she seems to be on the right track. She is close to establishing her wedding plans, and her dream of adopting a child is about to become a reality. In addition, she is finally starting to feel at home in her lovely, gothic-style mansion, Volstead Manor, despite some of the more creepy aspects of its architecture. Unfortunately for Bailey, one of the ingredients to her recipe for happiness could turn out to be a catalyst for disaster.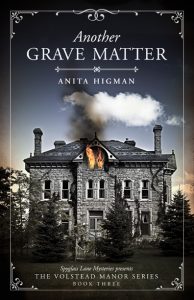 Someone is conspiring against Bailey, and it seems that this enemy has plans to purge Volstead Manor through fire. The authorities believe that the cause of the minor blaze was merely electrical in nature, but Bailey, an amateur sleuth, knows better than that. In the midst of her personal investigation, she discovers a vault hidden in her cellar, sealed off from prying eyes for many years. The secret she finds there has ties to the darkest period of Prohibition, when some groups would resort to the most heinous acts in order to maintain their profitable bootlegging practices. Now, as Bailey makes every effort to solve the case of this mystery mansion fire, she realizes that her life is in grave danger. And she must act quickly, because the villain is on its way. She may only have hours to live…
…Another Grave Matter is the third book in Anita Higman's Volstead Manor series of Christian cozy mysteries. Higman has been writing mystery for a while and seems to possess a knack for the genre. It is clear from this novel that she genuinely cares about her heroine, Bailey Walker, who is at the center of the novel. Bailey is a well-developed and dynamic character who has a way of drawing you into her plight and the pressure of her world as it seems to be crashing down around her.
If you enjoy cozy mysteries with undertones of Christian fiction, then this is definitely a novel for you. Also, for readers who enjoy well-crafted and suspenseful mystery-style works that are simple to read and satisfying, look for Another Grave Matter by Anita Higman. For more information about this specific piece, the author, and similar titles, please check the following website: http://www.spyglasslanemysteries.com/.