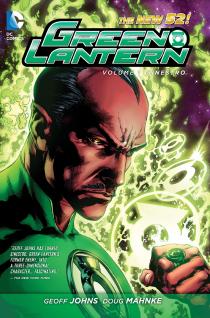 During the last few years several comic publishing giants have brought out gay super-heroes. Most have been new heroes that are part of a new series and a more modern story line. Yet this week, a venerable iconic superhero from DC Comics The Green Lantern is being portrayed as openly gay.
In a press release from DC Comics: "This Green Lantern is not the emerald galactic space cop Hal Jordan who was, and is, part of the Justice League. Instead, Alan Scott is the retooled version of the classic Lantern whose first appearance came in the pages of All-American ComicsNo. 16 in July 1940, explains the writer of the new series. The writer adds that "he doesn't come out. He's gay when we see him in issue two."
The Green Lantern first appeared in 1940 and was portrayed as Alan Scott, a married father of two, when he wasn't being a superhero. "A team leader with a Type-A personality and an appetite for justice, Alan also happens to be homosexual. And while his origins won't be shown in full detail until issue No. 3, we can tease that a traumatic event will serve as the catalyst for him assuming his superhero identity as The Green Lantern. …" said DC Comics on their website.
"I'm very proud to be introducing Alan Scott into DC Comics' The New 52," said series writer James Robinson. "He was my favorite Golden Age character and one I'm very familiar with so I'm really excited to be updating him for a contemporary readership. However, I think old-time readers will be pleasantly surprised by how, in some ways, I'm trying to show the 'classic' Alan Scott at the same time. He's still the same dynamic, heroic guy he was."