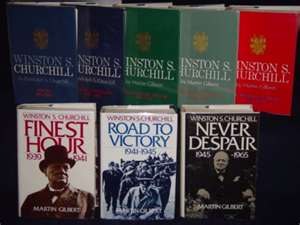 RosettaBooks LLC, has acquired the rights from the Churchill estate to publish the British icon's works digitally. The former British Prime Minister was a prolific author, penning two biographies, historical volumes, and memoirs.  He won the Nobel Prize in Literature in 1953 "for his mastery of historical and biographical description as well as for brilliant oratory in defending exalted human values". Churchill was also an accomplished artist and his work is featured in several U.K. Museums.
Rosetta CEO Arthur Klebanoff, "When we started out you could sell an e-book basically in the U.S., now we're selling e-books around the world. Device sales are exploding overseas."
Rosetta will publish 40 Churchill titles, half in fall 2012 and half in spring 2013. There are several titles currently available on their website.