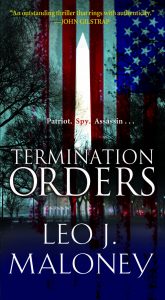 No one does Black Op Thrillers like the pros!

Leo J. Maloney was born in Massachusetts, where he spent his childhood and graduated from Northeastern University. In 1966 he was inducted into the army and during basic training he was recruited to become a black ops contractor for a clandestine government agency, and his life changed forever. He traveled the world to strategically important hotspots. As an independent contractor, he was never required to accept a particular assignment, but rather selected ones that met his criteria that it was in the best interest of the country, although once a mission was underway, there was no turning back. Unlike many of his peers, he survived to tell his story. 
While he was serving his country in the secretive world of black ops over a period of 31 years, he operated several "cover" businesses, primarily working a classic car broker, as well as owning a promotions company, and a detective agency.
Leo discussed some of the details of his secret life as a black ops contractor, with his confidants and family; they were fascinated by his stories and encouraged him to write a book. Leo is reliving many of his experiences and evolving them into his first novel,Termination Orders, which will be followed in 2013 by Silent Assassin.
About the book Termination Orders- Once a trained killer for the CIA, Dan Morgan has built a new life for himself. But when he receives a desperate plea from his former Black Ops partner – reportedly killed in a foreign battle zone – he flies to help. It should be a routine mission, extracting a human asset from the region. But it's not routine; it's an ambush. Now Morgan is running for his life, holding crucial evidence. With his contacts dead and family in danger, Morgan must take on a full-scale conspiracy in the highest echelons of a vast global network that plays by its own rules – when it suits them.For Dan Morgan, it's about to come to an end in Washington, D.C., on a national stage, in the crosshairs of a killer…
Leo currently resides in a quiet suburb of Boston with his wife and their German Shepherd. When not writing, he enjoys spending time with his granddaughter.