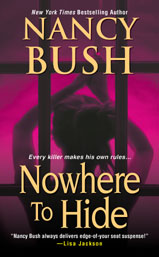 Barbara Vey talks with Nancy Bush in this video interview taken in Anaheim this summer. The ladies talk light-heartedly about grandchildren and life and discuss Nancy's newest releases; Nowhere to Run and Nowhere to Hide. Check out this fun and intimate interview with a top thriller writer.
Nowhere to Run follows Liv Dugan after a massacre where she works that Live suspects is tired to her past and to the package she recently received.
Nowhere to Hidethrills with tales of revenge and murder as the villain carves messages into the flesh of his victims. Detective September Rafferty must solve the murders before she becomes the next victim.