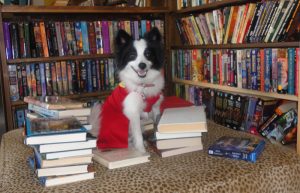 REDISCOVERING THE FUTURES OF THE PAST
Ash Kalb is an attorney who works with tech start-up companies, working out of the first floor of a building in Brooklyn's "Dumbo" neighborhood, between the Manhattan and Brooklyn Bridges. He's also a fan of classic science fiction: "I love Arthur C. Clarke, Isaac Asimov, Robert A Heinlein—the standards," he said, sitting in that office one Saturday afternoon. One night, he recalls, he was lying in bed with his Kindle and thought of a book he wanted to read–except that it wasn't in available in Amazon.com's Kindle store. "That surprised me," he said, "because it wasn't obscure."
That experience, as well as some conversations he'd been with his office mates about what their ideal work environment would be like, led to the launch of Singularity & Co., a used bookstore specializing in science fiction and fantasy books. The physical bookstore was just the beginning, though; Kalb and his partners also came up with a plan to find outstanding speculative fiction that had fallen out-of-print then, whenever possible, secure the digital rights and produce their own ebook editions. A Kickstarter campaign in the spring of 2012 raised over $52,000, well beyond their initial request, and the store opened in the late summer.
"I don't know if this would work if it was just forced to be a bookshop by itself," Kalb admits. In a way, the used bookstore side of the business is like an ocean into which the ebook side can cast its nets. "You can't find books you don't know about unless you buy books you don't know about," Kalb says, and although the store's worked with "Storage Wars"-type brokers to find some batches of books, they've also been tracking down and acquiring large libraries from estates (as well as living fans), then picking over the inventory themselves. Sometimes they find unusual items mixed in with the books, he says; one collector, for example, was using punch cards for bookmarks.
The Singularity website has a section with a gallery of covers from books that come into the shop, as well as suggestions from fans, with monthly polls on which book should be reprinted. "In an ideal world," Kalb says, "everyone could just vote on the book we do next." But they need to confirm that books are actually unavailable, then find out who if anyone currently holds the rights and see if they can make a deal. Two of the first books selected for reprinting were late 19th-century novels for which the rights were no longer an issue, but Kalb reports that he's working with the estate of one author to bring back a book which was originally published in the 1960s. (Although he's understandably playing his cards close to the vest, on the website, he describes the book as "something special by a notable author from the Golden Age of scifi.")
As Kalb chats, his partner and girlfriend Cici James comes into the store and begins to rearrange the inventory. When the store first opened, the books were shelved by decade, but they realized that made it more difficult to find authors if you didn't know when their books came out, so everything's being shifted to alphabetical order. Their dog, Robot, runs back and forth between them, eventually settling on a nearby ottoman littered with books. James describes herself as relatively new to the genre, at least where books are concerned. Growing up, she says, "I didn't read as much as I watched;" she loved A Wrinkle in Time, but she didn't really associate it with SF shows she enjoyed like Star Trek: The Next Generation. "But I'm learning, and I'm actually trying to break into fantasy now."
Although New York City has had science fiction & fantasy bookstores in the past (and has a comics shop, Forbidden Planet, that also sells some SF), Singularity is the first one in a while, and it's taking steps to become an active part of the city's speculative fiction fandom. In September, they launched a reading series where authors like Lev Grossman and NPR's Ophira Eisenberg introduce the audience to some of their favorite books from the past; new guest readers will come to the store on a monthly basis.
And what's Kalb reading these days? "I just re-read Larry Niven and Jerry Pournelle's The Mote in God's Eye," he says, a book he first read as a boy—and there were moments when what he was reading didn't jibe with those youthful memories. "I know we have a first edition in the shop," he adds, "so I may read it a third time, just to check."
Ron Hogan is the founder of the literary website Beatrice.