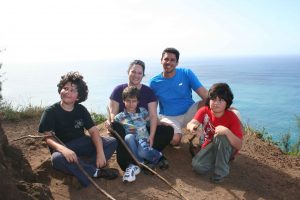 Author Virna DePaul and family share travels and togetherness instead of the usual gifts. Welcome Virna!
There never seems to be enough time to do everything I want to do and do it well.  In fact, more and more I find myself having to prioritize my time and energy, and that means making tough choices.  For example…
I spent several years collecting the perfect Christmas decorations—miniature snow-covered houses, garlands and wreaths, ornaments—both whimsical and elegant—wreaths, and linens.  But I'll make a confession—despite my best intentions, I don't always get the house decorated to celebrate the holiday.  In fact, there have been a couple of recent Christmases that we failed to get a tree at all.  This means that even the annual ornaments I buy for each of my three boys don't always get hung.
Thankfully, the kids are good sports about it.  We have a three-foot artificial tree strung with bubble light ornaments that we pull out in a pinch, and we always manage to get stockings up and cookies out for Santa.  And although we always have a few gifts for the kids, we decided a few years ago to focus our energy and money on traveling as a family.  For several years, we went on cruises.  This year, we're going back to Hawaii, which we visited for the first time last year.  The kids look forward to our trips more than presents from Santa, and they think of those good times more than the annual ornaments I buy them.  Which isn't to say the presents and ornaments aren't important or don't require a lot of thought.  I love picking out an ornament for each of my kids that symbolizes something significant that happened to them in the last year.  Sometimes I even pull out the kids' Christmas ornaments, no matter what time of year it is, just to admire them.  I hope someday the kids will look at them and reminisce about a happy childhood.
Likewise, when I think about the Christmas decorations that are gathering dust in my attic and guild assails me, I pull out the pictures of our trips together and smile.
Hey, I just had an idea…Decorating a Christmas tree with photos from the previous year.  Now that would be a sight to see!
Whether you deck the halls like a pro or celebrate the holiday a little more casually, I wish you joy and love always.
About Virna: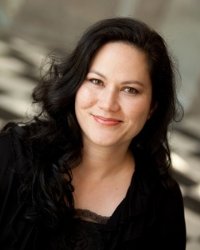 A national bestselling author, Virna writes paranormal and romantic suspense stories for Random
House, HQN and the Harlequin Romantic Suspense line.  All of her books encourage individuals to "brave the darkness and discover the light."  She loves to hear from readers!  www.virnadepaul.com You can find her latest release, Chosen by Sin by following this link.