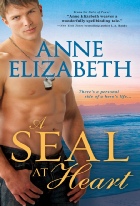 A SEAL AT HEART – from Anne Elizabeth

This book is dedicated to our outstanding Navy SEALs, and Our Men and Women in Uniform and their Families. Thank you for your tremendous dedication, your sacrifice, and your service.

Blurb

Being a SEAL means everything to Petty Officer First Class John Roaker. So when a head injury coupled with a bout of amnesia takes him out of the action, he has to find a way to heal his wounds and recover his lost memories. Enlisting the help of beautiful physical therapist Laurie Smith, he heals his body and discovers that his unlocked memories hold a dangerous secret about his last mission that threatens his life, his country, and the woman he's starting to fall in love with.
Excerpt From The Story

His body language spoke volumes as he leaned closer. The scent of aftershave tickled her nose. Not bad. Definitely spicy! Those wide shoulders and huge biceps practically had her panting.
"Isn't there any other place we could talk?" she yelled. He sure was cute, with his buzzed blond hair, gorgeous eyes, and chiseled features, but she didn't really get physical on a first date. Not that this was a real date.
The music stopped pulsing and for a few seconds there was an abrupt silence. As voices started to fill in the break, she took her chance.
"Jack, do you, ah?" She licked her lips again and watched his eyes follow the movement of her tongue. Heavens, I'm sweating! The man is making me perspire. I hope my deodorant holds up. "Do you work in the area?"
"Yeah, Laurie." His voice sounded like clover honey. "What about you?"
"I have my own practice." Her words were cut off by music blasting through the speakers.
He took her hand. Every nerve ending fired again as he held it.
Damn, I need to get a grip! Going all gooey while surrounded by half her childhood friends would undoubtedly make her die of embarrassment.
On the other hand, her secretary would say "Way to go! It's only been… how long?"
"So, you're donating a gift to the auction." The corners of his lips turned up at the edge. What gorgeous full lips.
"Yes." She swallowed hard. She thought to ask him how he was associated with the Naval Special Warfare Foundation, but the muscles of his biceps flexed, stretching the fabric of his shirt, and the thought drifted away.
A SEAL at Heart has just been released. Follow this link to grab a copy!
Reviews
"The connection between Jack and Laurie is instantaneous and combustible" – Publishers Weekly

"Elizabeth's series starter is, like the title, filled with heart and action. Vivid descriptions of military missions, and the pain that can come from them, make this a page-turner." – RT Book Reviews

"Two wounded souls find healing through love in Elizabeth's romance. Readers will find this book an accurate reflection of what's happening in the world today and perhaps be uplifted by its message of hope." – Booklist

"I am so glad to recommend this title to any and all readers as a must have book on the keeper shelf." – Bookseller Sharon Harbaugh of Munchkinbooks, Swanton, OH

"A SEAL at Heart is an exciting and poignant read that gives insight into the dangerous and stressful life of a SEAL even as it shows the magnitude of the sacrifices and commitment of these amazing heroes."  – ELF of Night Owl Reviews
Link to website: www.AnneElizabeth.net <http://www.AnneElizabeth.net>
Twitter: http://twitter.com/aeanneelizabeth
Link to personal Amazon page: http://www.amazon.com/Anne-Elizabeth/e/B002BX3M7C/ref=ntt_athr_dp_pel_1
Link to book on Amazon: http://www.amazon.com/SEAL-at-Heart-Anne-Elizabeth/dp/1402268904/ref=la_B002BX3M7C_1_1?ie=UTF8&qid=1353888262&sr=1-1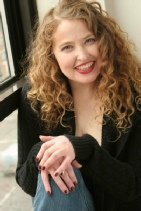 BIO:  Anne Elizabeth is a romance author; the columnist for RT BOOK REVIEWS magazine on the topic of comics, manga, and graphic novels having interviewed such well known personalities as Stan Lee, Joe Simon, and many more; and the creator of the PULSE OF POWER comic book world. Her comic book series is centered around positive messages for teens. The paranormal heroine tackles modern day issues such as bullies, destiny, genocide, and conflict while providing empowering methods for tackling problems while still being an entertaining story. Look for her on iTunes, Kindle, and Kobo or at her booth at the New York Comic Con and the Comic-Con in San Diego.
She is also adapting Anne Rice's CHRIST THE LORD: ROAD TO CANA into graphic novel form. Anne is multi-published and is a member of the Author's Guild and Romance Writers of America as well as a regular presenter at the RT BOOK Lovers Convention. Her background is a BS in business and MS in communications from Boston University and over a decade and a half of consulting in the corporate and private business sector. She grew up in Connecticut. Her husband is a retired Navy Seal and they are active in the West Coast Navy SEAL community.