Author Jade Lee shares her, um, accidental Christmas past, and a bit of furry cheer. Welcome Jade!
Christmas with Kitties by Jade Lee
So I was asked to write about my favorite holiday ornaments.  Back when I was around 7, we had a beautiful glass ornament with a picture of the city of Bethlehem moonlit by the Star of David.  Everyone loved that and, you guessed it, I dropped it and broke it.  No one got angry with me, but I still feel bad about that (mumble mumble) years later.
These days, I'm on a tree of life kick.  Feeling very Druidic lately.  So here are the ornaments I want.  Aren't they pretty?
Here's the problem: I have cats.  I adore cats, sleep with cats, clean up after cats, and usually fail to discipline my cats.  We have two: an old cranky huntress and a young, spazzy kitten who just turned one.  And here's what they love to do in my tree.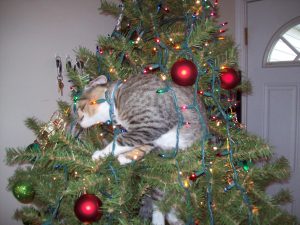 So years ago when this problem first appeared, I bought lovely chiming ornaments.  They make noise when a cat is climbing up the tree.  A pretty tinkling sound that alerts me in time to run in and shoo them away.  Problem solved!  Well, apparently not because my huntress cat is VERY SMART. *sigh*  What this taught her is how to climb trees very quietly.  Seriously.  Probably explains why she's caught (and brought home) birds.  So she silently climbs up the tree, sneaks out on a branch, and lays there in wait for an unsuspecting kitten, human, or bare feet to wander into pouncing distance.
Ever had a cat pounce on your head in the middle of the night?  I have.  And yet, somehow, I still want more cats.  I'm sure there's therapy for this condition somewhere.  But I'd much rather go to a shelter and pick out my next feline problem!  And by the way, I'd planned on showing you a picture of that ornament, but somehow it's gone.  I think the cats stole it and buried it where I will never find it again.
About Jade:

USA Today Bestseller, JADE LEE is the author of more than 30 romance novels. With her latest series, Bridal Favors, she finally gets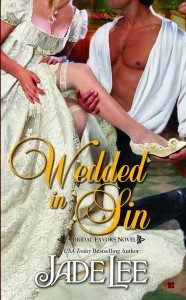 to set these couples in the best girl-heaven of all: a Bridal Salon! This way she gets to live out all her wedding fantasies, one by one. (Let's be honest, what girl has only one idea for her dream wedding?) For more on the Bridal Favors series, visit Jade on the web at herwebsite, Facebook or Twitter.
And don't forget Jade's other name, KATHY LYONS. That's Jade's lighter, contemporary side. She writes for Harlequin Blaze merging hawt sex and funny relationships into really great reads. Visit her website.
You can find Jade's latest release by following this link.