Today, we welcome author Nancy Naigle with her adorable collection of Santa's. Welcome, Nancy!
Thanks for having me, Linda. We celebrate Christmas here on Holland Farm, but I wish all of you a wonderful holiday with warm memories and new special moments that will brighten each year going forward. It was hard to pick a favorite ornament because for years we exchanged homemade ornaments and all of them hold special spots in my heart, but for the last eight years we've been decorating our tree in a western and farm theme. Among the tree filled with farm animals, tractors, western boots, saddles and cowboys,  I've ended up with a fun collection of cowboy Santa's that always make me smile.
So, in the hustle bustle of the last week before Christmas, I hope these guys put a smile on your face, too.
From left to right::
Smore's Cowboy –   My mom gave me this adorable Smore's Cowboy and although he's not a Santa, he's kind of my Santa because Mom gave this to me the year I married my husband. You see my husband always wears a hat, and boy can he wear a Stetson! This was always reminds me of my wedding day.
Lucky Cowboy Santa – This Santa Cowboy has legs made out of a lucky horseshoe that's springy so it wiggles and jiggles like he's dancing
Texas Cowboy Santa – We bought this little guy on a trip to Texas. His jalepeno decorated vest is made of fabric and his lasso is on the ready to rope something up for dinner. I love the spurs on his heels. They actually spin.
Old Cowboy Santa – This Santa reminds me of my old grandpa. I called him Pop-Pop and as long as I knew him he always had a long white beard and wore nothing but Levi's and denim shirts and a cowboy hat. In the summer he wore a cowboy hat with the top cut out. J This Santa is wearing leather chaps and his legs are on little rings so they move around.
Ice Cube Cowboy Santa – Last but not last, this ice cube Santa has a big jingly bell and looks so pretty as the lights glow behind him.
I guess it'll come as no surprise to y'all after this note that in my novel, OUT OF FOCUS, Kasey ends up receiving a Christmas gift from one of Cody Tuggle's band members of a cowboy hat made out of red licorice ropes. J If I had one I'd put it right on the tree top!
From my house to yours~Best wishes for a bright holiday and a happy New Year.
Nancy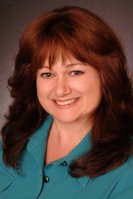 About Nancy:
Nancy writes love stories from the crossroad of small town and suspense. The first two novels in her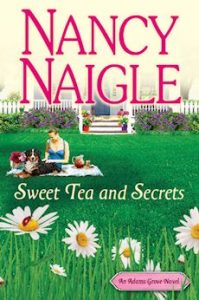 Adams Grove series are:  Sweet Tea and Secrets and Out of Focus. Two more are coming in 2013 : Wedding Cake and Big Mistakes, and Pecan Pie and Deadly Lies
You can visit Nancy at her website, and you can find her latest titles by clicking here.