Rosalind Noonan – 
weaves the thought-provoking, morally complex themes of Jodi Picoult and the emotional richness of Kristin Hannah into a family drama that explores the fragility and resilience of life, and the extraordinary depths of love, in this mesmerizing and heart-wrenching novel.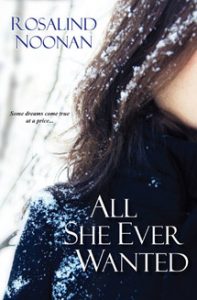 ALL SHE EVER WANTED – For years, Chelsea Maynard has longed to be a mother. She's imagined caring for a new baby in the lovely house she shares with her husband, Leo, fondly planning every detail. But after a difficult birth, those dreams of blissful bonding evaporate. Chelsea battles sleep deprivation and feelings of isolation. Little Annabelle cries constantly, and Chelsea has dark visions fueled by exhaustion and self-doubt. Her sister, Emma, insists she gets help for post-partum depression, but Chelsea's doctor dismisses her worries as self-indulgent.
Doubting her ability to parent—even doubting her own sanity—Chelsea is close to collapse. Then an unthinkable crisis hits. And suddenly, Chelsea is compelled to face both the fragility and resilience of life, and the extraordinary depths of love.
With uncompromising candor and clarity, acclaimed author Rosalind Noonan creates a mesmerizing novel that is gripping, heart-wrenching, and unforgettably poignant. 
Praise for Rosalind Noonan's The Daughter She Used to Be
"The author once again takes on an emotional topic with great sensitivity." –Booklist
"An engrossing family saga…this novel would fuel some great book-club discussions." —Shelf Awareness
"Noonan delivers another earnest drama." –Publishers Weekly
  ____________________________________________________________________________________
Laura Florand – 
THE CHOCOLATE KISS, c
ombines lush description, smart dialogue, provocative sensuality and the food of love itself in an irresistible novel that is an ode to the pleasures of Paris and chocolate.
The Heart of Paris
Welcome to La Maison des Sorcieres. Where the window display is an enchanted forest of sweets, a collection of conical hats delights the eye and the habitués nibble chocolate witches from fanciful mismatched china. While in their tiny blue kitchen, Magalie Chaudron and her two aunts stir wishes into bubbling pots of heavenly chocolat chaud.
But no amount of wishing will rid them of interloper Philippe Lyonnais, who has the gall to open one of his world famous pastry shops right down the street. Philippe's creations seem to hold a magic of their own, drawing crowds of beautiful women to their little isle amidst the Seine, and tempting even Magalie to venture out of her ivory tower and take a chance, a taste…a kiss.
Parisian princesses, chocolate witches, pâtissier princes and sweet wishes—an enchanting tale of amour et chocolat. "Vive la Laura Florand!" —Cassandra King
Praise for Laura Florand and her novels
"Charming and laugh-out-loud funny."—New York Times bestselling author Deborah Smith
"Readers will devour this frothy, fun novel."—Booklist
"I adored this book…I loved this story: Paris, chocolate, and romance, all in one hilarious package." —Eloisa James, The Barnes & Noble Review
"Both sensual and sweet…a story that melts in your mouth!" —USA Today bestselling author Christie Ridgway
 ____________________________________________________________________________________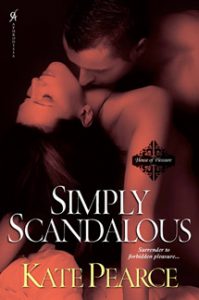 Kate Pearce – SIMPLY SCANDALOUS
 – Combining "t
ouching romance and blistering sex—with a little kink
" (RT Book Reviews), Kate Pearce—one of the biggest names in erotica— continues her highly successful House of Pleasure series set in a  Regency-era brothel.
Known only to a select clientele, Madame Helene's Pleasure House is an exclusive brothel in Regency England where every illicit fantasy that you could imagine is indulged…
Sinful Desire
After years of fighting on the continent, Richard Ross has finally returned to London to make peace with his father. And the erotic delights of his stepmother's Pleasure House provide a welcome distraction for his war-weary heart. But he is shocked to encounter someone there whose resemblance to his lost love leaves him both tempted and tormented…
Dangerous Seduction
As a former spy, Violet LeNy has mastered the art of deception. But there is no disguising the heated passion that still burns between her and Richard, the man she once betrayed but who now is her only hope of survival. Soon she plans a scandalous game of seduction where sensual surrender is the ultimate pleasure…
"The passion of Pearce's erotic tale is focused and intense….Their sex encounters and fantasies…steam up the pages." —Romantic Times on Simply Shameless
"Sinfully hot. If you like your romance hot as you return to the Regency era, where behind the scenes anything goes, then grab Simply Carnal for your reading pleasure." —Romance Reviews Today