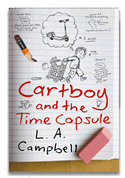 Middle school is hard enough, but when Hal finds out that his dream of getting his very own room can only happen if he gets a good grade on an assignment he works hard to make the grade. But, no one said middle school would be easy!
Hal must write in his journal which will be put into a time capsule and opened years into the future. Hal sets out to warn whatever alien, humanoid or robot may live in that distant future of the perils of middle school. What he accomplishes is to get himself a new nickname: Cartboy and learn lessons the hard way.
This book is reminiscent of Diary of a Wimpy Kid with middle school woes, the kid's point of view, illustrations and loads of laughs. What would a middle school boy tell the people of the future? Believe me, you're going to want to know. LOL
I would recommend the book to ages 8 and up. The drawings are charming to hilarious and Hal's voice will tickle more than your funny bone!
You can find out more about the book here- www.lacampbellwriter.com