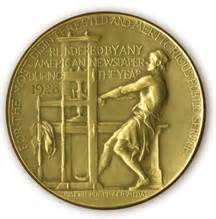 2012 left readers and authors without a winner in the fiction category. This year however, the Pulitzer committee has announced winners in all categories.
Letters, Drama and Music
FICTION – "The Orphan Master's Son" by Adam Johnson
DRAMA – "Disgraced" by Ayad Akhtar
HISTORY – "Embers of War: The Fall of an Empire and the Making of America's Vietnam" by Fredrik Logevall (Random House),
BIOGRAPHY – "The Black Count: Glory, Revolution, Betrayal, and the Real Count of Monte Cristo" by Tom Reiss (Crown)
POETRY – "Stag's Leap" by Sharon Olds
GENERAL NONFICTION – "Devil in the Grove: Thurgood Marshall, the Groveland Boys, and the Dawn of a New America" by Gilbert King (Harper)
MUSIC – "Partita for 8 Voices" by Caroline Shaw, recording released on October 30, 2012 (New Amsterdam Records)
2013 Pulitzer Prize Winners
Winning stories, photographs and cartoons, as well as bios and photos of winners, are available by clicking the links below.
Journalism
PUBLIC SERVICE – Sun Sentinel, Fort Lauderdale, FL
BREAKING NEWS REPORTING – The Denver Post Staff
INVESTIGATIVE REPORTING – David Barstow and Alejandra Xanic von Bertrab of The New York Times
EXPLANATORY REPORTING – The New York Times Staff
LOCAL REPORTING – Brad Schrade, Jeremy Olson and Glenn Howatt of the Star Tribune, Minneapolis
NATIONAL REPORTING – Lisa Song, Elizabeth McGowan and David Hasemyer of InsideClimate News, Brooklyn, NY
INTERNATIONAL REPORTING – David Barboza of The New York Times
FEATURE WRITING – John Branch of The New York Times
COMMENTARY – Bret Stephens of The Wall Street Journal
CRITICISM – Philip Kennicott of The Washington Post
EDITORIAL WRITING – Tim Nickens and Daniel Ruth of the Tampa Bay Times, St. Petersburg, FL
EDITORIAL CARTOONING – Steve Sack of the Star Tribune, Minneapolis
BREAKING NEWS PHOTOGRAPHY – Rodrigo Abd, Manu Brabo, Narciso Contreras, Khalil Hamra and Muhammed Muheisen of the Associated Press
FEATURE PHOTOGRAPHY – Javier Manzano, free-lance photographer, Agence France-Presse
For a list of all finalists, please visit the Pulitzer website.