One of our favorite authors to visit at RT this year is definitely Lisa Kessler!  Lisa is fun, energetic and talented.  We caught up with her in Kansas City at the RT Booklover book signing and got her to tell us a bit about her Night Walker series.  This is NOT your typical vampire series!
Check out the video and here's a little more from her website-
He gave up his soul for a second chance to love her…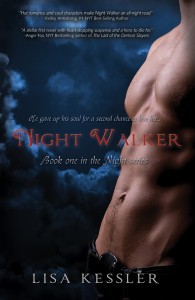 Two and a half centuries ago, Calisto Terana lost everything when a zealous priest murdered the woman he loved. Now, desperate for another chance to love her, he wants redemption for the mistake that cost her life.
She's haunted by dreams of her own death…
After catching her fiance with another woman, Kate Bradley returns to San Diego to clear her head. The last thing she needs is romance, but after meeting Calisto she's drawn to him in ways she doesn't understand.
They've waited in the shadows for centuries…
Calisto has no doubt Kate is the reincarnation of his lost love, but the Fraternidad Del Fuego Santo has a new watcher with dark ambitions of his own. As old enemies re-emerge and a new threat arises, the betrayal that enslaved Calisto to the night might destroy the only woman he's ever loved again.