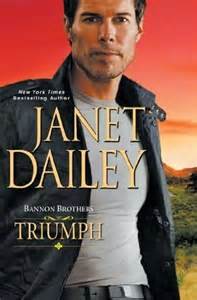 Need a hot hero? Janet Dailey's Bannon Brothers deliver—to the max. This is the last book in the Bannon brother's and Ms. Dailey's ends it with a 'bang'.
Deke Bannon is rugged and powerful and just as dangerous as his older brothers RJ and Linc. But an ambitious TV anchor tracking an explosive story may be more than his match…
Deke Bannon, federal criminal investigator, risks his life just about every damn day—but that doesn't mean he'll let Kelly Johns do the same. A deadly international gang has targeted the gorgeous news anchor for knowing too much and trying to find out more. To protect Kelly, Deke will have to keep her close—no matter how hard she fights him.
Good luck with that. Kelly's every instinct tells her she's stumbled across the story of her career. But there's a catch. Without Deke, she can't infiltrate the dark underworld operating beyond the reach of the law. With him, she's in a whole other kind of danger. On the case, Deke Bannon is a force of nature—unpredictable, unstoppable, and always one step ahead of her. Except when he takes her in his arms—and the world stands still for both of them…  Bannon Brothers: Triumph. Available today. 
Bestselling author Janet Dailey is a legend in publishing – she has written more than 100 novels and become one of the top selling female authors in the world, with 325 million copies of her books sold in nineteen languages in ninety-eight countries. Her previous titles include: Always with Love, Bannon Brothers: Honor and Bannon Brothers: Trust. She lives in Branson, Missouri.