Shawntelle Madison writes urban fantasy and she writes it well! We caught up with her at the RT Booklovers Convention in Kansas City during the book signing.  Her series is The Coveted Series and she was there signing her novel Kept.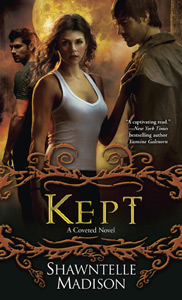 Here's a little more about Kept from Shawntelle's website-
Fresh from defending her pack in battle, Natalya Stravinsky, a whip-smart werewolf with a lovable neurotic streak, wants a little rest and relaxation. Once an outcast, she's now eager to rejoin the ranks of her New Jersey pack, and has even gotten a handle on her obsessive urge to hoard holiday ornaments. Yet Nat barely has time to revel in her progress before the next crisis comes howling at her door.
Nat's father has suddenly gone missing, captured by the Russian werewolf mafia. And as Nat steps up to save her dad from a mob boss's deadly game, two men step in to play another round for her heart: her gorgeous alpha ex-boyfriend, Thorn, and her new flame, the sweetly sensitive wizard Nick. With her life growing more harried by the minute, Nat must stay cool, calm, and collected . . . or else risk losing everything.