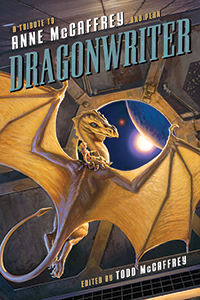 Coming this August fans will be thrilled with a new collection of stories and artwork from  author Anne McCaffrey's world of Pern. Dragonwriter: A Tribute to Anne McCaffrey and Pern will be published by Smart Pop Books and will be edited by Todd McCaffrey, the late author's son.
The tribute book will include essays and cover art by Mike Whelan, who was the primary cover artist on most of the Pern books. Mr. Whelan will include "never before seen" sketches, and memories of working with the legendary author.
McCaffrey passed away in 2011 leaving a literary science fiction legacy. This book is a tribute to that legacy.
Here's more from the press release: "Michael Whelan shares stories and 18 concept sketches—in a special color insert—from his longtime work on Pern cover art. Lois McMaster Bujold describes using McCaffrey as a model of the writer's life. Mercedes Lackey discusses the Brainship universe, and what she learned about McCaffrey's storytelling from working within it. Elizabeth Moon relates the lessons she learned from Pern's Lessa (and from Lessa's creator). David Brin pinpoints the primary characteristic of McCaffrey's work: her steadfast belief that what is to come is better than what has past."