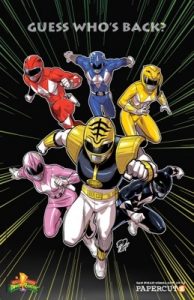 Remember when it was a battle at the toy store to find these brightly colored power heroes? Introduced back in 1993, the Mighty Morphin Power Rangers were the number one show for boys and a few girls who loved action adventure television. The series was cancelled in 1995, but fans still clamored for more.
This year, in conjunction with the series 20th anniversary, Papercutz is releasing a graphic novel of the series. The novel will include all the original characters from the show and will be written and illustrated by Stefan Petrucha and PH Marcondes. The first graphic novel will be released in May 2014.
From Papercutz press release:
"Ever since we began publishing POWER RANGERS comics, it's been my dream to bring back the Mighty Morphin team," said series editor Michael Petranek. "I grew up with the TV show, which makes this all the more special. I want to see Rita Repulsa again. I want to see stories that take place between the original episodes. We've been waiting over 15 years for new stories with these characters! With the 20th anniversary of the show's debut this year, it just made too much sense not to do this."
MIGHTY MORPHIN POWER RANGERS will be a companion series to the main POWER RANGERS graphic novel series, which is aligned with the current television season airing on Nickelodeon, Power Rangers Megaforce.