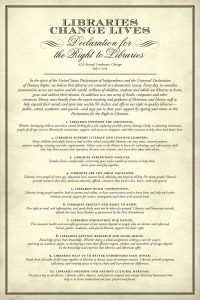 As one of her first initiatives, incoming ALA President Elect Barbara Stripling, has issued a "Declaration for the Right to Libraries." This declaration will in her words, "focus on increasing public understanding of the value of libraries, especially in the realms of literacy, innovation, and community engagement. Now is the time for us to build the public will for libraries of all types.
As part of this effort, we have planned a campaign called America's Right to Libraries and developed a Declaration for the Right to Libraries to serve as a strong public statement of the value of libraries for individuals, communities, and our nation.  Through this initiative, libraries of all types will have the opportunity in the next year to hold signing ceremonies where community members, organizations, and officials can visibly sign and stand up for their right to have vibrant school, public, academic, and special libraries in their community."
Signed scrolls resembling the one above will be available to libraries nationally in early 2014. You can download a copy by following this link.