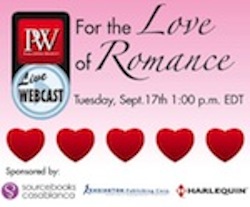 Barbara Vey has been working a long time to give romance readers and authors the respect they deserve. For over six years, she has been writing a detailed, warm, and humorous blog, Beyond Her Book for Publishers Weekly. This blog has given the romance genre long overdue credibility as a viable genre in publishing.
Now, she has been ask to manage the Publishers Weekly Romance Webcast. Here's more from Barbara:
Well, I finally have managed to get a PW Romance Webcast off the ground.  In the past, PW has done every other genre and even webcasts on Faith and Yarn that were highly successful.
The time has come for everyone to help support the romance genre.  I really need everybody to sign up for the webcast (Sept. 17th Noon EST).  Signing up does not obligate you to listen to the webcast.  You can either listen live or later on iTunes if you'd like.  It is absolutely free and listeners have a chance to win giveaways (because Romance is best at that!).
If you love romance, if you like riding off into the sunset, mist, happily-ever-after, please join Barbara and sign up today.
The details:
Date: September 17th
Time: 1:00 p.m. EDT
Save the date for Publishers Weekly's debut of "For the Love of Romance," a live webcast hosted by PW contributing editor and Beyond Her Book blogger Barbara Vey.
Harlequin, Kensington and Sourcebooks will add to this lively panel discussion and bring you up to date with the latest trends appealing to romance novel fans. Discover what makes a great hero or heroine, what's red hot in new titles and the impacts of erotica and new subgenres in romance novels.
Don't miss this exclusive new webcast that'll take you deep into the heart of the romance genre and unveil what keeps readers lusting for more!