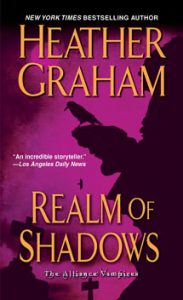 The latest from bestselling author Heather Graham and her Alliance Vampire Series – Realm of Shadows.
Every Nightmare Has Its Beginning
Tara Mason wants more than tourist sights out of her trip to the city of dreams, something strange and off the beaten path. But is it her own curiosity that draws her to an ancient cemetery on the outskirts of Paris? Or is she lured by a dark, immortal force she is powerless to resist? When she realizes someone is chasing after her, a shadowy figure getting closer and closer, how quickly the dream becomes nightmare…
In The Dead Of Night
He calls himself a guardian. He is sworn to protect the innocent from an evil most never see. Now that he has caught up to her in the abandoned ruins of a country estate, he insists Tara must trust him. She has carelessly exposed herself. The evil has seen her, but he vows it will not claim her…
About Heather Graham:
New York Times and USA Today bestselling author Heather Graham has written over one hundred novels and novellas and is a founding member of the Florida Romance Writers chapter of RWA. She has been published in approximately twenty languages, and has been honored with awards from Waldenbooks, B. Dalton, Georgia Romance Writers, Affaire de Coeur, Romantic Times, and more. She has had books selected for the Doubleday Book Club and the Literary Guild, and has been quoted, interviewed, or featured in such publications as The Nation, Redbook, People, andUSA Today, and appeared on many newscasts including local television and Entertainment Tonight.