Suspense, paranormal, horror, and a little belly-laughing humorous mystery — whatever makes your Halloween reading brighter, there's a book for you!
They are the envy of every young woman—and the fantasy of every young man. An elite sisterhood of Greenbriar University's best and brightest, their members are the most powerful girls on campus—and the most feared…
Eve
She's the perfect pledge. A sweet, innocent, golden-haired cheerleader, Eve has so much to gain by joining Gamma Eta Pi—almost anything she desires. But only a select few can enter the sorority's inner circle—or submit to its code of blood, sacrifice, and sexual magic. Is Eve willing to pay the price?
Merilynn
Ever since childhood, Merilynn has had a sixth sense about things to come. She's blessed with uncanny powers of perception—and cursed with unspeakable visions of unholy terror. Things that corrupt the souls of women, and crush the hearts of men. Things that can drive a girl to murder, suicide, or worse…
Samantha
Journalism major Sam Penrose is tough, tenacious—and too curious for her own good. She's determined to unearth the truth about the sorority. But the only way to expose this twisted sisterhood is from within…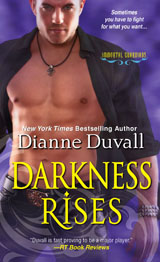 DARKNESS RISES by Dianne Duvall
Dianne Duvall returns to the world of the Immortal Guardians, where danger–and desire–make every decision count. . .
Krysta is used to getting the drop on vampires. Her "special abilities" aren't much, but the plan is simple–she plays helpless pretty young thing to lure them in. Then her shoto swords come out and it's bye-bye, bloodsucker. Until one night she finds herself with an unexpected ally. He's a vampire, all right, but different. Mysterious. Handsome. And more interested in saving her skin than draining it.
Étienne has been an Immortal Guardian for two hundred years–long enough to know that Krysta is special. He can't stop thinking about her long legs, even more than her short swords. Then he discovers the vamps she's exterminating have friends in high places, and the Guardians are in danger too. He'll have to accept Krysta's help to save them. The stakes for a mortal are high. But the cost to his heart might be higher. . .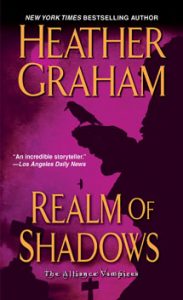 REALM OF SHADOWS by Heather Graham
Every Nightmare Has Its Beginning
Tara Mason wants more than tourist sights out of her trip to the city of dreams, something strange and off the beaten path. But is it her own curiosity that draws her to an ancient cemetery on the outskirts of Paris? Or is she lured by a dark, immortal force she is powerless to resist? When she realizes someone is chasing after her, a shadowy figure getting closer and closer, how quickly the dream becomes nightmare…
In The Dead Of Night
He calls himself a guardian. He is sworn to protect the innocent from an evil most never see. Now that he has caught up to her in the abandoned ruins of a country estate, he insists Tara must trust him. She has carelessly exposed herself. The evil has seen her, but he vows it will not claim her…
While the world slumbers in Shadow, a fatal plague has swept through magekind. No one is immune to its ravages, and now that her father is dead, Cari Dolan must wield the fearful magic of her House to save innocent lives.
"The sexual tension is palpable. A stand-out page turner." —RT Book Reviews on Fire Kissed
At the mage Council's bidding, dangerous outsider Mason Stray joins forces with Cari to hunt down the fiend responsible. But can he trust the daughter of wealth and privilege, especially when his own son is at risk?
"If dark adult fairy tales appeal to you, you should definitely check this series out" –Fiction Vixen on Shadowman
The princess will always welcome to her bed the warrior, even if one must pay the ultimate price….
FATAL STRIKE by Shannon McKenna
When Lara Kirk was abducted months ago, Miles Davenport vowed he'd bring her home. But the mission failed. Miles has become totally obsessed; he can practically hear Lara pleading for him to save her. Finding her after all this time will be next to impossible. . .
Lara Kirk lives in a shadowy world where reality and fantasy are one. Her captors have poisoned her body with concoctions that enhance psychic abilities–and they seem to be working. To escape, Lara has formed a deep attachment with a man whose virile, sensual presence in her mind is her only comfort. She's not even sure if he's real–until the six-foot-five-inch powerhouse bursts in to rescue her. . .
Once freed, Lara has no choice but to trust Miles with her life as they run from enemies too twisted to imagine. But they're also fighting a dangerous attraction that could kill–or save–them both. Either way, it's going to be a hell of a ride. . .
DEATH OF A NEIGHBORHOOD WITCH – Laura Levine
When Jaine Austen's beloved cat Prozac unwittingly scares to death a parakeet belonging to the neighborhood's resident curmudgeon, Jaine finds herself knee-deep in toil and trouble. The cantankerous Hollywood has-been once played Cryptessa Muldoon, television's fourth most famous monster mom. Now she spends her days making enemies with everyone on the block. So when the ornery D-lister is murdered with her own Do Not Trespass sign on Halloween night, the neighborhood fills with relief—and possible culprits.
With a killer on the loose, Jaine hardly has time to fall under the spell of her yummy new neighbor, Peter. As the prime suspect, she summons her sleuthing skills to clear her name and soon discovers that everyone has a few skeletons in their closets…
An amazing selection of books to make you laugh, scare you, and leave you wanting another bowl full of candy, um books!
Happy Halloween!!!