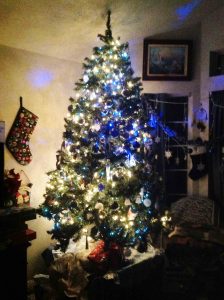 Christmas in our household starts right after Halloween. That's when I make my husband start getting all the decorations out of the attic.  I love Christmas, and I want to enjoy it for as long as possible! One of my favorite parts of this holiday season is putting lights outside. I dream of one day having one of those houses that gets on the news! But my efforts are far more modest.
Inside, when start on the tree, I have a "helper" named Koko. I think he believes he has supervisory skills….  First, he inspects the tree I've put together, from the inside out to be sure every branch is secure and fluffed to perfection! Then he climbs the ladder, rung by rung, and watches my every move (I have two cats who love to climb ladders and they do it like us humans, one paw, one rung at a time).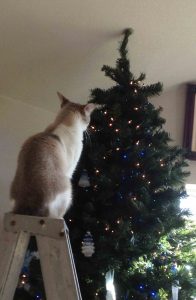 Once my children moved out, I decided I wanted a more formal tree. As blue is my favorite color, I now have a blue-themed tree. Ornaments are blue, silver, white with a few exceptions for special ornaments. Lights are blue and white.  I love my tree, and this year, due to putting out two books, one in November (Autumn Dreams) and December (White Christmas-A Reunion), I have yet to put out a single decoration and with 10 days left, I'm debating whether to put up my tree. I have a smaller tree that is a colorful tree that I also set up. I might just put that one up with my blue ornaments. Decisions, decisions!
One decorating idea I did one year was hanging decorations from the ceiling. I have a very high ceiling and used a tool my husband made to "stick" them up with thumbtacks. They stayed up for years as I couldn't get them down….  My next attempt will be to use hooks placed on the ceiling. The blue themed ornaments I bought will be crocheted together in a long line  then strung. I think that will work much better!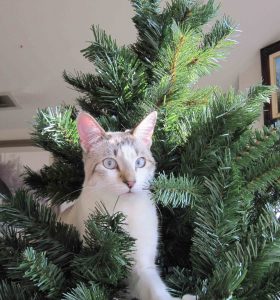 When I had a retail shop, it was much easier to decorate from the ceiling and I loved the effect. It was like walking into another world. My customers loved it. I want to recreate that feeling in my home for the holidays, but not this year….
I love to drive around the neighborhoods, looking at all the outdoor displays. I dress warm, take a go-cup of tea or cocoa and away I go. And at night, when everyone is in bed, I like to take a cup of tea, shut the lights off, and just sit in my living room with the Christmas tree on. So maybe I'd better get going and at least have a little bit of Christmas this year!
About Susan:
Native American/Western romance writer Susan Edwards is the author of the popular "White" Series. She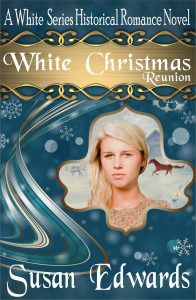 was nominated for the Romantic Times Career Achievement Award for Western Historical and Reviewer's Choice Best Book Award. She is very pleased to be able to offer to her readers her White series in Digital Format, along with her SpiritWalker series.
Susan is also pleased to announce a new White book; a reunion of characters. White Christmas will be available December 2013. You can follow Susan at her various social media outlets.
Facebook: https://www.facebook.com/pages/Susan-Edwards/40226247104
Twitter: http://twitter.com/susan_edwards
Blog: http://susanedwards.wordpress.com
Goodreads: http://www.goodreads.com/author/show/5051440.Susan_Edwards