This "Book Industry Event of the Year" offers more than 125 workshops for writers, readers, booksellers and librarians plus lots of book giveaways and prizes. Fans can mingle with New York bestselling authors like Heather Graham, Brenda Jackson, Francine Rivers, ReShonda Tate Billingsley and more!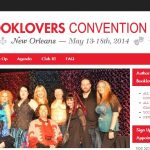 The 2014 RT Booklovers Convention kicks off at the Marriott Hotel on Canal Street on Tuesday, May 13 and ends on Sunday, May 18.
Aspiring authors can hone their craft by attending more than 125 workshops covering 15 genres — including romance, erotica, thriller, paranormal, inspirational and steampunk — plus cutting edge programs on writers' hot topics like self-publishing and social networking.
Plus, meet with editors from New York publishing houses, pitch manuscripts to dozens of agents, and most of all meet and greet your favorite authors like — Lisa Kleypas, Eloisa James, Sylvia Day, Lee Child, Tess Gerritsen, Charlaine Harris, Karen Robard, and hundreds more. Day passes are available for only $99.
Besides our nightly costume parties, which make great visuals for television and the internet, one of this year's convention highlights will be a salute to legends of African-American romance.
Then RT BOOKLOVERS Convention goes crazy on Saturday, May 17 from 10 a.m. to 8 p.m. It's FAN-tastic Day at the Marriott with two gigantic ballrooms filled with more than 700 new and bestselling authors selling and signing copies of their latest novels. Parents are invited to bring teens for the Teen Day program, sponsored by HarperTeen and popular YA authors. This program is packed with a day of games, plenty of prizes and book giveaways. Don't miss it! The $30 Teen Day Pass admits one teen and an adult chaperone.
Remember $99 day passes are available for the Monday-Friday workshops. Library patrons get in free to Saturday's book signing only, FAN-tastic Day is all about readers with tons of giveaways — book addicts are encouraged to bring an empty suitcase for all the free books, purchased books and giveaways. The FAN-tastic Day pass is only $55.
To request an author interview or a press badge, please contact Pat Simmons via email or cell. For more information about this not-to-be-missed book event, visit www.RTconvention.com. To see an overview of the workshops, clickhttp://www.rtconvention.com/agenda?typer=All&panelist=All.
The Annual RT BOOKLOVERS Convention is brought to you by RT BOOK REVIEWS the magazine for fiction lovers with more than 250 new books reviewed in every issue, author interviews, book news, gossip and more.
###
Copyright © 2014 RT BOOKLOVERS Convention, All rights reserved.
Our mailing address is:
RT BOOKLOVERS Convention
55 Bergen Street, Brooklyn, NY, United States
New York, NY 11201