After being jilted at the altar and losing both her father and her home, Abigail Westcoate fights for survival in Regency England and is appalled that her heart increasingly turns toward the man she believes is responsible for her poverty, the Marquess of Ravensgaerd.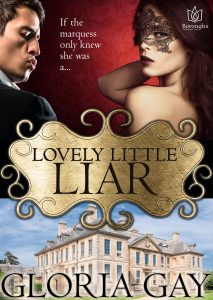 About the Author:
Throughout the years, Gloria Gay's life as a writer has happily co-existed with her life as a poet and as an artist. Typing words on blank pages to turn them into novels is as natural to her as applying paint onto a blank canvas to create a painting.
During the 25 years she worked as a legal secretary and weekly newspaper stringer, Gay self-published four historical romance novels. She also published five of her poems in Writer's Journal and a contemporary short story in True Romance.
Lovely Little Liar (January 2014) her fifth Regency romance and her sixth, Scandal at Almack's (May 2014) were released by Borough's Publishing Group. Gay's self-published debut novel, First Season, earned a four-star review from Romantic Times Book Reviews at a time when self-publishing and e-books were largely discounted by the publishing world. Luckily for her, RT Book Reviews was not of that frame of mind. <em "mso-bidi-font-style:="" normal"="">First Season was followed by three more Regency romances:Forced Offer, Canceled Courtship and Known to All.
Gloria Gay lives with her husband, Enrique, an architect, in San Diego, California, and couldn't be happier that their three children and six grandchildren live nearby.