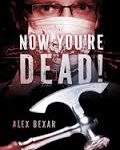 Science is a powerful tool for the advancement of our species, but when it is left unchecked by the principles of compassion and ethics, the pursuit of scientific breakthroughs can have drastic and sometimes gruesome consequences. Enter Dr. Minos, a scientist obsessed with growing a human brain in a laboratory setting. His twisted determination has led him to gain an interest in Captain Andy Jones, whose physical and mental capabilities far exceed those of any man Minos has ever known. After Jones successfully rescues an infant girl from the flames of the failed Eden Village on planet Virginis, it is Minos who decided that Jones is the perfect specimen for his murderous experiment. Now, Captain Jones is about to lose his head…
…in a very literal way.
Scienctific pursuits turn sinister in Now You're Dead by Alex Bexar. The author, who grew up in the rural South and loved stories dealing with the military and space travel, has explored the dangers of experimentation without the checks and balances of decency or any solid ethical foundation in her new book. She writes with clarity and a keen sense of what science fiction fanatics love.
If you enjoy a good science fiction read, then do not miss Alex Bexar's Now You're Dead, which is available online as an e-book this week. For those wishing to learn more about the author, this title, or additional books by the same author, look to the following profile, courtesy of GoodReads: http://www.goodreads.com/author/show/7622291.Alex_Bexar.