Psychologist Rachel Pruchno's fiercely candid memoir describes how mental illness twice attacked her family. As a child, her mother's depression and mania terrified her. As a parent, she feared her adopted daughter would follow a similar path. Unraveling the mysteries surrounding her mother's and daughter's illnesses, the author discovers how to mitigate the destructive effects of mental illness on families. Find out more at www.SurroundedByMadness.net Surrounded by Madness by Rachel Pruchno, PhD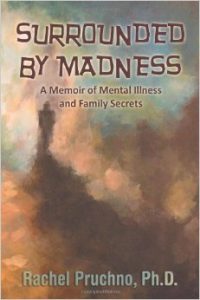 About the Author:
Dr. Pruchno is Director of Research at the New Jersey Institute for Successful Aging, and Endowed Professor of Medicine at Rowan University's School of Osteopathic Medicine. Prior positions include Director, Initiatives on Aging,Boston College; Director, Center on Aging, Bradley University; Director of Research, Menorah Park; Associate Director of Research, Philadelphia Geriatric Center.
She earned her Ph.D. in Human Development and Family Studies at Penn State University (1982), M.A. from Oakland University (1979), and B.A. from Michigan State University (1976).
Dr. Pruchno is the Editor-in-Chief of The Gerontologist. She has served on the Editorial Boards of the International Journal of Aging & Human Development and Journal of Gerontology: Psychological Sciences. She has been a member of two standing NIH study sections (Mental Disorders of Aging (MDA), NIMH; Social Psychology, Personality and Interpersonal Processes Study Section (SPIP)) and is a frequent ad hoc NIH reviewer.
Dr. Pruchno has been the Principal Investigator on NIH-funded grants totaling close to $7 million as well as foundation grants of more than $3 million. She has published more than 70 peer-reviewed articles, 10 book chapters, and an edited book, Challenges of an aging society: Ethical dilemmas, political issues.