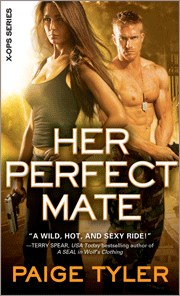 Called a "wild, hot, and sexy ride from beginning to end" by bestselling author Terry Spear, Paige Tyler's debut novel, Her Perfect Mate (May) combines the thrilling spec-ops teamwork of Suzanne Brockmann with the paranormal edge of Lora Leigh's Breeds series. The resulting odd couple is a smoking-hot Special Forces Captain and a dangerously beautiful feline shifter, and their attraction is more dangerous than any weapon of mass destruction.
Special Forces Captain Landon Donovan is handpicked by the Department of Covert Operations for a very special assignment. He has to somehow stop a ruthless arms dealer who has been kidnapping geneticists and biological weapons experts. However, he's stunned to discover that his new partner is a sexy woman who looks like she couldn't hurt a fly, much less take down a terrorist.
Ivy Halliwell is more dangerous than she looks. She's a feline shifter, and after two disastrous partnerships, she is not thrilled to be working with another military grunt. But Landon is different. He doesn't treat her like a freak of nature, and his pheromones make her want to pounce on him every time they get close to one another. But will the chemistry that makes Ivy work so well with Landon put them in mortal danger as they face a threat that's even greater than they imagined?
Paige Tyler is the USA Today bestselling author of sexy, romantic fiction. She and her very own military hero (also known as her husband) live on the beautiful Florida coast with their adorable dog. Paige graduated with a degree in education, but decided to pursue her passion and write books about hunky alpha males and the kick-butt heroines who fall in love with them. Visit her at www.paigetylertheauthor.com.