Selkie thought she was a normal teenager, but on her 17th birthday she learns that she is half-fae princess destined to overthrow the corrupt Faerie Court and its queen, her mother. Join Selkie on a journey spanning the realms of the mortal and immortal, one that will force her to risk everything, including the boy she loves.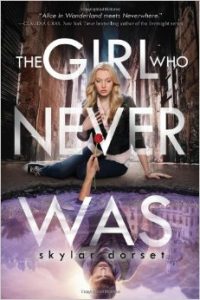 About the Author:
Skylar's first story was a tale of romantic intrigue involving two feuding factions of squirrels. Think "Romeo & Juliet" but with bushy tails and added espionage. She was seven.
Since that time, Skylar's head has been filled with lots of characters and lots of drama. She is delighted to be able to share some of it with all of you now, because, honestly, it was getting pretty loud and crowded in there.
Skylar is a born-and-bred New Englander, which is why Boston was a natural setting for her debut novel, THE GIRL WHO NEVER WAS. Skylar shares her home with a cardboard cutout of the Tenth Doctor, lots of Mardi Gras beads from the time she spent living in New Orleans, and a harp she's supposed to be teaching herself to play. She'd like to get a dog.