Haunted by a failed kidnapping case, Detective Matt Brady struggles to solve the disappearances of seven young women. When his veterinarian girlfriend is targeted to be victim number eight, Brady tries to protect her, but steps into the crosshairs of a professional cop killer. Find out more at http://www.alanbrenham.com/ or http://www.blackopalbooks.com.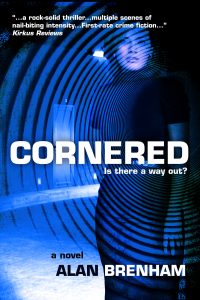 About the Author:
Alan Brenham is the pseudonym for Alan Behr, an award-winning American author and attorney.
After graduating from Texas A&I University, Alan worked as a US Treasury special agent. As part of his duties, he traveled through Europe and the Middle East as a Special Deputy US Marshal.
He then joined the Temple Police Department, working as a patrol officer and later worked as a crime analysis officer. During his time with the Temple PD, he received an Outstanding Law Enforcement Officer award.
Alan left the Temple PD to live in West Berlin, Germany, while contracted to US military forces as a civilian law enforcement instructor. He won a gold medal in a US Army-sponsored international pistol competition- a feat he attributes to extensive firearms training he received from the US Secret Service. Two years later, he returned to the Temple PD and was promoted to detective.
He attended law school and was admitted to the State Bar of Texas in 1987. Alan practiced law as a prosecutor and, later, as a criminal defense attorney before working as an Assistant General Counsel for the Texas Department of Criminal Justice. After retiring from the State of Texas, Alan taught a courtroom testimony course to law enforcement officers throughout Texas before turning to writing reality-based crime fiction books full-time.
Currently he is a reserve deputy sheriff with the Bee County Sheriff's Office in Beeville, Texas. He also volunteers free legal services for veterans in Austin through the Austin Bar Association's Veterans Legal clinics.
He and his wife, Lillian, have traveled to Alaska, Central and South America and almost every island in the Caribbean. Today, they live in the Austin, Texas, area.
Alan is an award-winning crime fiction author: His novel,Price of Justice, was voted best in Police/Crime fiction from the Texas Association of Authors in 2013 and Finalist in the Beverly Hills Book Awards in 2013, a Finalist in the Eric Hoffer Awards, and a Finalist in the 2014 International Book Awards.